It's weeks like this one that makes me so glad our 8 year old is an avid reader.
This week has been busy, busy, busy. And most of the busy-ness has come in the form of mama (me) setting up my social media consulting business.
So, needless to say, school has sort of been on autopilot for a few days now (lots of workbooks for math and grammar and finishing up our library reading).
Despite being extra busy and spending more time on the computer than I usually do, we still got a good bit of school work accomplished. Thank God for Fall break in a few days!
At this point I look forward to a few days to take a breather and then get back in the school mode until Thanksgiving and Christmas break.
In our BJU History we just finished up a chapter on the westward expansion. We'll start talking about the 49'ers next week (FUN!!!). We're going to pan for gold. I guess that means I'll need to buy some kind of gold glittery paint or something?
For math we've been doing lots of drill and review of our multiplication facts up to 5's. We'll start 6's this week. We've been using SoftSchools for some of the drill.
After school, though, we played alot this week and had a blast!
As for my consulting business that I've been so busy with building this week, my sweet 8-year-old took a really good picture for me that I was able to use for the website header and also on the "work with me " page.
One last wrap up about this week (besides the fact that our squash never came in at our garden – we'll try again next year. Oh, and also besides the fact that we do finally have a birdhouse, but haven't put it up yet to do any bird watching) is that BabyZ is starting to show LOTS more interest in her abc's and reciting them. Saying her numbers to ten and then requesting her dad to say them in French has been a big hit in our house too.
Not to mention she's been quite the chatterbox lately! Her vocabulary must have just doubled in the past month, because my jaws dropped the other day when she looked at me and said, "But mommy well actually…"
Um…actually? Okay. 🙂 It's funny how they emulate their older siblings. Ny, my oldest, is known for trying out all these big words lately, and I love her for it! LIke "Mom, that is totally ambiguous!" Okay, dear. 🙂
Don't forget to check out Tot School if you have little ones.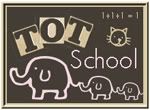 About Demetria Zinga
Demetria is a homeschooling mom and mompreneur who lives in Silicon Valley with her husband, two daughters, and a dog. She currently runs two podcasts for homeschool moms and moms in business, writes songs, and spends lots of time at coffee shops. Her goal is to be an encourager and motivator of women, helping them to find success and joy in homeschooling, business, and motherhood.